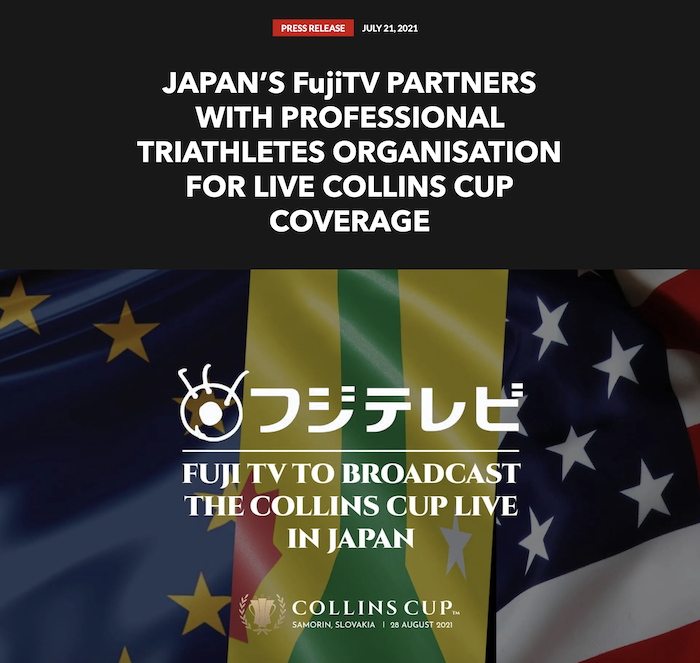 PTOが運営する8/28コリンズカップがフジテレビでライブ(OTT)、オンデマンドで放映されます。
FOR IMMEDIATE RELEASE
21st July 2021
The Professional Triathletes Organisation (PTO) and FujiTV, one of Japan's biggest and best-known public service broadcasters, have agreed a partnership that will see The Collins Cupscreened live across Japan on multiple platforms. The partnership was arranged by IMG.
The Collins Cup is the PTO's inaugural flagship event taking place on 28th August in Šamorín, near Bratislava, Slovakia and is a new race format modelled after the Ryder Cup, which will see teams of International, European and USA athletes pitted against one another and put on display the excitement, rivalry, drama and personalities of the sport of triathlon.
As part of the deal, the entire Collins Cup broadcast of over 7 hours will be broadcast live on the FujiTV OTT platform with a dedicated Japanese commentary team from FujiTV providing all the analysis as the action unfolds. A delayed re-run of the broadcast will air across FujiTV's payTV linear channel the following day.
Daisuke Fukushima, Senior Vice President & Deputy Managing Director, IMG Japan said:"We are delighted to have the Collins Cup showcased on FujiTV. The PTO's investment in the highest production standards and athlete storytelling combined with FujiTV's reach will ensure this flagship triathlon event will be available for all sports fans to enjoy in Japan. FujiTV has a keen focus and knowledge of triathlon having broadcast the sport since 2019 and will be showcasing this exciting race to the widest possible audience."
Tim Godfrey, Chief Marketing Officer at PTO, said: "We are thrilled to partner with FujiTV in Japan for the first ever Collins Cup. FujiTV has shown a huge level of commitment to broadcast this unique and first of its kind triathlon event live and on demand in local language to its audience. To get this level of coverage and commitment from one of Japan's best-known broadcasters is fantastic for the sport.
About the Professional Triathletes Organisation:
The Professional Triathletes Organisation is a not-for-profit entity consisting of both men and women professional triathletes who have come together to form a representative body which not only gives them a meaningful voice in the way the sport operates but a means to contribute to its growth for the benefit of the entire triathlon community. The PTO seeks to showcase the passion, talents, determination, struggles and achievements of its dedicated professionals through iconic events, reimagined broadcast and compelling storytelling, inspiring global sports fans to watch, engage and participate in Triathlon. The PTO's inaugural flagship event, The Collins Cup, will be held on 28th August 2021 in Samorin, Slovakia and will be a head-to-head showdown between the world's greatest athletes to determine who rules triathlon. Sign up here for updates.
.
PTOサイト:https://protriathletes.org
.
.
.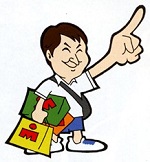 Triathlon " MONO " Journalist   Nobutaka Otsuka